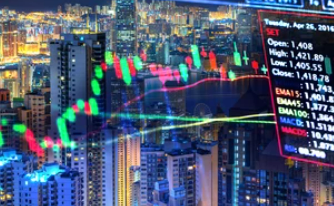 Hong Kong's new listings volume fell 90 percent to a nine-year low this year, according to data, as China's steep economic slowdown and regulatory push cast a long shadow over the city's prospects as an IPO destination (IPOs).
The dwindling number of share offerings in Hong Kong portends badly for investment banks, who generate around one-third of their revenue in the region from equities capital market transactions, and for Hong Kong's role as a worldwide financial hub.
According to Refinitiv statistics, only $2.1 billion has been raised this year via IPOs and secondary listings in Asia's most popular fundraising venue, compared to $20.7 billion at the same time last year. This is the weakest start to a year since 2013; last year, $20.7 billion was raised.
"One of the reasons for the substantial decline in the Hong Kong IPO market is the deteriorating financial performance of the majority of applicants in the previous fiscal year, and it is conceivable that this trend will continue into the first half of the current fiscal year," said Ashurst partner Frank Bi.
"Such a negative development effectively slows the application schedule."
Reuters reported last week that JD (NASDAQ:JD) Technology, the fintech branch of Chinese e-commerce business JD.Com, is the latest company to delay an up to $2 billion Hong Kong IPO due to a lack of domestic regulatory approval for the deal.
Plans by Full Truck Alliance Co Ltd, the 'Uber (NYSE:UBER) for trucks' in China, to raise $1 billion in a Hong Kong listing this year have been put on hold as the cybersecurity regulator has yet to provide the results of an investigation into the company.
According to bankers and attorneys, this year is projected to see a rise in the number of Chinese businesses that withdraw or postpone their applications for listing. Weaker secondary markets are also dampening investor enthusiasm for new share offers.
The Hang Seng Index in Hong Kong is down 14.1% year-to-date in 2022, while the MSCI's broadest index of Asia-Pacific shares excluding Japan is down 14.4%.
Sumeet Singh, an Aequitas Research analyst who writes for Smartkarma, stated, "From the investors' perspective, with the markets being merciless, any worries regarding a listing candidate's prospects will certainly cause them to be more cautious."
In addition to global instability, China's COVID lockdowns and tech controls are detrimental to the capital markets.
This year, Hong Kong Exchanges and Clearing's (HKEX) worldwide listing position has declined from third to tenth in the global listing rankings.
An HKEX spokeswoman stated, "We are confident in the long-term appeal of Hong Kong's markets and are glad to see a robust pipeline of over 170 active listing applications."
FEE DROP
John Lee, the future Chief Executive of Hong Kong, has pledged to maintain the city's role as a global financial hub. However, the deteriorating listing activity could represent a problem for him.
It also poses a significant dilemma for banks, whose fees for working on Hong Kong initial public offerings decreased from $33 million this year to $221 million in 2021, according to Dealogic statistics.
Despite this, others were optimistic because of the city's strategic significance.
Even though the Hong Kong market has been "extremely unstable," the city's IPO chances could improve as the volatility diminishes, according to Li He, a partner at the law firm Davis Polk. Hong Kong is an essential "venue that connects China with the rest of the globe."