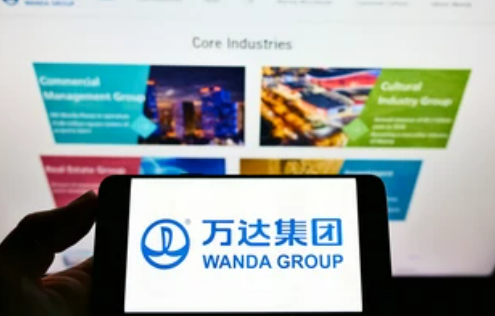 A term sheet seen by Reuters revealed that Dalian Wanda Commercial Management raised $400 million in a U.S. dollar bond, the first publicly sold dollar bond by a Chinese property-related firm since late 2021, when the sector's debt crisis reached a climax.
According to Reuters, the company, the property services arm of commercial property developer Dalian Wanda Group, increased the size of the deal due to investor demand during the bookbuilding.
The transaction represents a milestone for China's high-yield bond market, but market participants anticipate that only developers with strong balance sheets will be able to access the dollar debt market following a series of debt defaults and payment extensions since late 2021.
Since China Evergrande Group's liquidity issues have worsened, the sector has been severely impacted, leaving companies little room to raise funds abroad.
The term sheet revealed that the final yield for Wanda's 11%, two-year bond was 12.375%, compared to the initial price guidance given to investors of 12.625%.
Reuters viewed a presentation by Wanda Commercial Management Group that stated the book received a 3.7-fold oversubscription, with orders totaling $500 million from long-only funds including Blackrock (NYSE:BLK), Fidelity, Pictet AM, Invesco, and PAG.
The investment firms PAG, Blackrock, and Invesco declined to comment. Fidelity and Pictet did not respond to comment requests.
Dalian Wanda Group did not respond immediately to a request for comment, and its commercial management division could not be reached immediately.
Wanda planned to raise $200 million, according to two sources with direct knowledge of the matter, but the amount was increased due to strong demand from long-only investors, according to a third source.
The company's presentation stated, "This transaction reopened the dormant China property and high-yield bond markets and received an enthusiastic response."
While the transaction was a milestone for China's high-yield bond market, advisors do not anticipate a surge in dollar bond issuance from China's property developers, particularly those with a high exposure to residential real estate.
Instead, some higher-rated companies with strong balance sheets may consider issuing dollar bonds, possibly after the Lunar New Year this month, according to a source. To attract investor support, residential developers would have to offer higher yields than Dalian Wanda Commercial's 12.375%, according to the source.
"It's exciting that a property company can sell any bond at this time," said a developer whose offshore bond repayments were extended. "However, the dollar bond market will not recover quickly. I believe Wanda is an outlier and not a standard – investors are extremely selective. It is currently impossible for developers in default to issue dollar bonds."
S&P Global (NYSE:SPGI) stated in a conference call that Wanda's issuance sent a positive signal to the market and that it was advantageous for corporations to have multiple financing channels, even if offshore rates are currently higher than onshore.
Dalian Wanda Group, unlike many other Chinese developers who focus on residential projects, relies on rental income and has an asset-light business model. According to the term sheet, Wanda will use the proceeds to refinance existing debt and for general corporate purposes.
Moody's (NYSE:MCO) assigned the notes a Ba3 rating, while Fitch Ratings assigned a BB rating. Both grades are high-yielding.
Fitch stated that Wanda executed a keepwell deed and a deed of equity interest purchase undertaking to guarantee that the issuer has sufficient assets and liquidity to meet its note obligations.