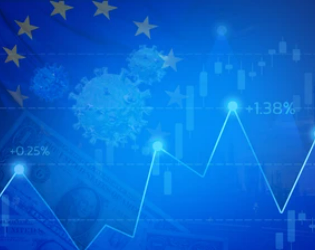 European stock markets are anticipated to begin lower on Monday, as investors take a cautious posture at the start of a week that includes U.S. inflation data that might signal another significant interest rate increase.
At 2:00 AM ET (0600 GMT), the DAX futures contract in Germany declined 1.2%, the CAC 40 futures contract in France sank 1.5%, and the FTSE 100 futures contract in the United Kingdom declined 0.7%.
European indexes finished higher on Friday, recovering from the steep sell-off in the first half of the year, but this optimism is threatened at the start of the new week ahead of the publication of the latest CPI statistics from a number of nations, most notably the United States.
It is anticipated that the French, German, and Spanish CPIs will all remain at or around record levels, while the U.S. consumer price index would grow 8.8 percent year over year and 1.1 percent month over month. The cost of electricity is anticipated to be the primary cause of these increases compared to the previous month's results.
In conjunction with Friday's excellent nonfarm payrolls report, this will continue to put pressure on the Federal Reserve, pointing to another 75-basis-point interest rate rise that would likely have an influence on the global economy.
This week also marks the beginning of the second quarter results season, with U.S. banks leading the way.
Prior to that, Danske Bank (CSE:DANSKE) will be in the focus, since it lowered its expectation for full-year net profit on Sunday due to fast increasing interest rates and negative financial market circumstances.
The French government stated over the weekend that it will entirely nationalize the debt-ridden power firm EDF (EPA:EDF). As a result, EDF (EPA:EDF) will also be a focus. EDF, in which the French government currently owns 84 percent, is one of Europe's largest utilities and a key component of France's nuclear strategy.
More COVID worries in Shanghai prompted fears of new lockdowns and a decline in demand from the world's top crude oil importer on Monday.
The highly transmissible BA.5 Omicron strain was detected over the weekend in China's commercial center, necessitating an additional round of mass screening from Tuesday to Thursday.
While the authorities will want any restrictions to be as focused as possible to minimize damage to the world's second-largest economy, this news brings to mind the lengthy lockdowns earlier this year that clogged global supply lines and harmed international commerce.
By 2:05 a.m. Eastern Time, U.S. oil futures were trading 1.2 percent down at $103.50 per barrel, while Brent crude futures slid 1 percent to $105.97 per barrel.
Last week, both futures declined due to market concerns that aggressive interest rate rises might precipitate a recession and reduce oil consumption.
In addition, gold futures declined 0.2% to $1,738.35 per ounce, while EUR/USD slid 0.4% to 1.0143.