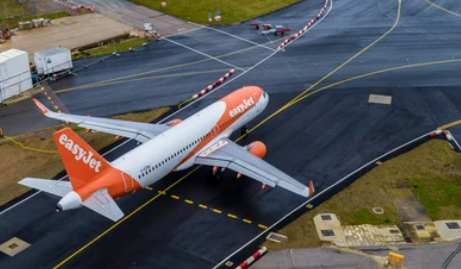 The low-cost airline easyJet (LON:EZJ) said on Monday that it will reduce flights during the busy summer season in order to address difficulties such as ground crew shortages and flight caps at London Gatwick and Amsterdam.
The British airline said it now expects its capacity to be about 87 percent of 2019 levels in the quarter to end-June, and approximately 90 percent in the fourth quarter to end-September, adding that the interruption would have a cost effect.
Last month, the company projected that it would run 90 percent of its 2019 capacity in the third quarter and 97 percent in the fourth.
It said that a highly tight labor market for personnel, along with increased security check delays for new employees, had further weakened its resiliency.
CEO Johan Lundgren expressed regret that the airline had not provided the service that customers had grown to expect.
"While in recent weeks the actions we've taken to increase our resilience have allowed us to continue flying up to 1,700 flights per day, the persistent difficult operating environment has sadly resulted in cancellations," he added.
Lundgren noted that the airline is already lowering flights to accommodate airport limitations and to make its schedule more robust, so minimizing the need for same-day cancellations.
easyJet shares, which are languishing at 20-month lows, were down 3% in early trade.
As a result of losing thousands of employees during the COVID-19 epidemic, European airlines and airports were unable to handle a rise in demand when restrictions were restored.
EasyJet said that their passenger counts in April and May were seven times higher than in the same months of the previous year.
Due to ongoing labor shortages, Gatwick airport, where easyJet is the largest airline, said on Friday that it will reduce flights.
It limited daily flights to 825 in July and 850 in August in an effort to prevent pandemonium and counteract same-day cancellations. Typically, around 900 flights are operated on peak days in August.