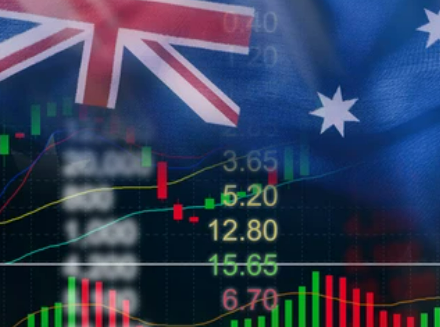 Monday evening saw a decline in Australia's stock market, as losses in the Gold, Materials, and Energy sectors drove the decline.
At Sydney's close, the S&P/ASX 200 lost 1.40 percent.
Nuix Ltd (ASX:NXL) had the greatest performance on the S&P/ASX 200 during the day, gaining 4.17 percent or 0.03 points to close at 0.62. EML Payments Ltd (ASX:EML) gained 3.76 percent, or 0.03 points, to close at 0.69, while News Corp B DRC (ASX:NWS) rose 3.63 percent, or 0.94 points, to 26.84 in late trading.
Adbri Ltd (ASX:ABC) had the worst performance during the session, falling 22.01% or 0.41 points to close at 1.43. Costa Group Holdings Ltd (ASX:CGC) down 13.42% or 0.31 points to conclude the day at 2.00, while St Barbara Ltd (ASX:SBM) fell 8.22% or 0.06 points to 0.67.
On the Sydney Stock Exchange, declining equities outweighed advancing ones by 852 to 423, with 369 ending unchanged.
Shares of Adbri Ltd (ASX:ABC) dropped to five-year lows, falling 22.01%, or 0.41, to close at 1.43. Shares of Costa Group Holdings Ltd (ASX:CGC) dropped 13.42%, or 0.31 to $2.00, marking a 5-year low. St Barbara Ltd (ASX:SBM) shares plummeted to 5-year lows, shedding 8.22%, or 0.06 to close at 0.67.
The implied volatility index for S&P/ASX 200 options rose 4.78 percent to 19.57.
Gold Futures for December delivery increased by 0.64 percent, or 10.55 cents, to $1,659.45 per troy ounce. Crude oil for December delivery increased 1.06 percent, or $0.90, to $85.55 per barrel, while Brent oil for December delivery rose 1.10 percent, or $1.00, to $92.64 per barrel.
AUD/USD jumped 0.82 percent to 0.62, while AUD/JPY climbed 0.71 percent to 92.81.
The US Dollar Index Futures fell 0.37 percent to 112.79.