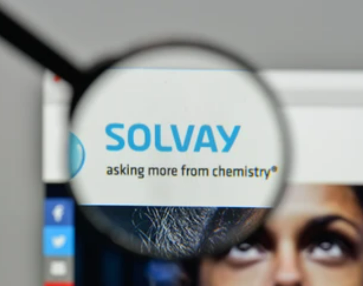 Belgian chemicals manufacturer Solvay (EBR:SOLB) upped its free cash flow projection for the entire year on Thursday due to better-than-expected profitability. The business also established a joint venture with Mexico's Orbia to make battery materials in the United States.
The business, whose products include base chemicals such as soda ash and specialty polymers used in batteries, now anticipates a free cash flow for the whole year of approximately 1 billion euros ($987 million), compared to an earlier estimate of 750 million.
Separately, Solvay and Orbia signed a framework agreement for a joint venture with an investment of around $850 million, of which the U.S. Department of Energy will give $178 million.
By 2026, the project is anticipated to construct the largest plant in North America for the manufacturing of suspension-grade polyvinylidene fluoride (PVDF), which is used in lithium ion batteries in electric vehicles.
This year, Solvay stated in its results report that its capital expenditures would approach 1 billion euros.
Its underlying earnings before interest, taxes, depreciation, and amortization for the third quarter were 917 million euros, surpassing its previously raised target of about 900 million euros and the average estimate of 764 million euros.
The company has been able to pass on cost increases to clients thus far, thanks to continuous demand and pricing consistency.
"We have also been renegotiating contracts with a number of significant clients to include automatic cost escalation clauses related to energy in Europe," said finance head Karim Hajjar in an interview with Reuters.
The sales for the period of July to September increased 40% year-over-year to 3.61 billion euros, although Hajjar foresees difficulties in the coming year.
"We must be very cognizant of the fact that 2023 will be challenging," Hajjar said, adding that Solvay could experience a 15% reduction in volumes as customers cut their stocks.
The CFO verified that the March announcement to separate the group into two distinct public entities by the second half of 2023 was on track.