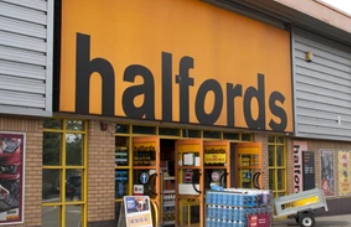 Halfords (LON:HFD) has warned that its underlying earnings for the whole year would be at the lower end of its projections, as high inflation and the economic recession have impacted sales at its bicycle division.
Halfords shares, which lost more than two-thirds of their value after reaching a high in the summer of last year but had regained around one-third of those losses since the beginning of October, dropped 12% at the opening bell but rebounded to be down just 8.5% by 03:30 ET (08:30 GMT).
Since the end of September, the largest U.K. retailer of cycling and motoring equipment has reported that while sales in its "needs-based" sections have been high, "the more discretionary areas have weakened." In the six months leading up to September, revenue at its hallmark bicycle stores decreased 7.1% on an annual basis, behind a significant acquisition-driven increase in its Autocentres sector.
Halfords had benefited from a cycling boom during the epidemic, as an increasing number of individuals eschewed public transportation in favor of workout regimens. However, it has invested more resources over the past few years in expanding its network of car components and accessories, most notably through the acquisition of Lodge Tyre last month, which made it the U.K.'s largest commercial tire supplier and increased the proportion of motoring sales to more than 75 percent of total group revenue. It stated on Wednesday that it is expected to surpass its 1 million membership goal for its Motoring Loyalty Club, adding that as of the end of September, membership was at 980,000.
The firm reported a 10.2% increase in revenue for the six months ending in September compared to the same period a year earlier, but like-for-like sales were down 1.5% versus a difficult comparative base. The pretax profit decreased by half from the previous year to £29 million, as gross margins in both Autocentres and retail came under pressure from rising inflation.
On a more positive note, it stated that it was well positioned for the upcoming year, with no debt and 98% of its foreign currency requirements hedged at a cost of $1.32 per pound, which is significantly higher than sterling's current trading levels. This will diminish the pressure on the central bank to raise prices further at a time when family incomes are being squeezed not only by inflation but also by a significant tightening of fiscal policy via tax rises and budget cuts.