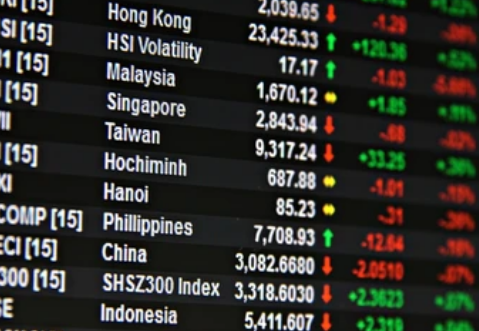 Concerns over a rise in COVID-19 cases in China led to a minor decline in most Asian markets on Friday, but they were poised for weekly gains as dovish signals from the Federal Reserve increased investor appetite for risky assets.
The Hang Seng index in Hong Kong was one of the worst performers of the day, down 0.7%, while the Taiwan Weighted index fell 0.2%.
Chinese equities gained on Friday, but the benchmark Shanghai Shenzhen CSI 300 index remained on track for a little weekly loss as the nation recorded a record-high increase in daily COVID-19 infections.
The nation implemented additional lockdowns in a number of large cities, which provoked social unrest in "iPhone City" Zhengzhou, a crucial player in the technology supply chain.
Despite Friday's advances, Chinese bourses were expected to trail their regional rivals this week, as investors concerned that China's increased lockdown measures will once again impede economic development.
Next week's PMI results for November are expected to shed more information on China's economy, with October statistics already portraying a bleak picture for the fourth quarter.
The Nikkei 225 index declined 0.3% as growing inflation in the nation's capital signaled further economic headwinds for Japan.
The index was expected to increase by more than 1% this week, boosted by the strength of technology firms after the Federal Reserve suggested that it was considering a slower rate of interest rate hikes.
The minutes of the Federal Reserve's November meeting revealed that an increasing number of members advocated a slower pace of rate rises in order to assess the impact of monetary policy tightening on the economy.
While Fed members remain unclear as to where U.S. interest rates will peak, the idea of lower rate rises bodes well for Asian markets, which have been pummeled this year by increasing rates.
Traders poured into severely discounted, high-risk, and high-yield assets, causing Southeast Asian stock markets to be the strongest performers this week.
The Philippine stock market gained 0.7% on Friday and is projected to rise 1.6% this week. Despite a 0.7% decline due to profit-taking, Malaysian equities were the strongest performers in Asia this week, gaining more than 2%.
As a result of veteran politician Anwar Ibrahim's appointment as the new Malaysian prime minister, which ended a near-week-long political stalemate, national attitude improved.