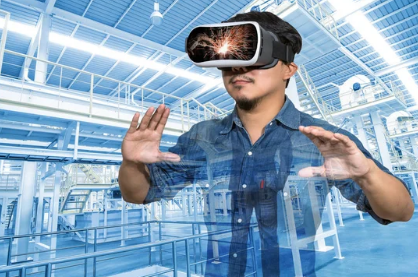 Virtual reality (VR) is one of the trendiest technologies currently attracting the attention of investors. Virtual reality, one of the core foundations of Web 3.0's metaverses, has benefited from years of investment from the gaming industry. Virtual reality stocks have contributed significantly to the overall development of technology, and it grabs a large portion of the VR industry with its many uses. Let's examine the nine finest VR stocks to purchase in order to capitalize on this industry's growth.
What is virtual reality?
Virtual Reality, or VR, is a simulated visual experience that may resemble or vary from the surrounding world. VR is used in a number of areas, including the entertainment, event, business, and education sectors. Further advancements in virtual Reality technology result in expanded forms of VR, such as mixed Reality and Extended Reality (XR), that are more sophisticated. There are two forms of Virtual Reality: immersive VR and text-based VR.
Standard virtual reality systems of the present-day use virtual reality headsets or multi-projected environments to display the realistic picture, sound, haptic feedback, and other sensations that imitate the user's physical presence in a virtual world.
Virtual Reality fully immerses users in a computer-generated visual reality. Many industries, including manufacturing, healthcare, education, event, business, and the military, now use virtual reality applications to facilitate their work and enhance their customers' experiences. Virtual reality was first introduced by the gaming and entertainment industry, which was attempting to integrate with virtual reality technology.
Using a VR headgear makes sense and creates the illusion that we are moving around a 3D virtual world. They link to a host device that may be a computer, game console, or mobile device.
As a result, VR technologies may be utilized to experience a trip location, a virtual world, driving instructions, surgical planning, and 3D instructional models. Now, companies are attempting to use VR in their own unique ways.
What is the difference between augmented reality and virtual reality?
Augmented reality and virtual reality are two sides of a coin with several sides. In fact, the category has been expanded to include extended reality (XR) or mixed reality (MR), a catch-all name for the technology that combines the digital and real worlds in a computer hardware interface that seems like it was designed for a 1980s sci-fi film.
There are three primary categories of XR technologies, but remember that the distinction between what is genuine and what is a clever optical illusion continues to blur.
Immersing oneself in an entirely digital world is virtual reality.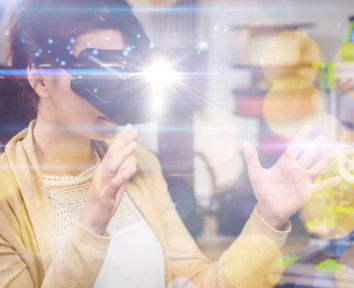 Your perspective of reality is "augmented" with digital elements in augmented reality.
In mixed reality, digital items are superimposed over the actual environment.
Others are generating solutions that are actually blended and suited to the situation at hand, while many firms operate only in one area. Even technologies are merging, with AR and VR firms embedding AI into their goods and services.
Evidently, several firms have experimented in the VR sector.
Similarly, augmented reality technologies have become a more common element of our smart device experiences. During the epidemic, virtual reality and augmented reality goods were in great demand.
Consumers want secure methods to simulate in-person interactions and engage with the outside world. The reality is that customers have only seen the top of the iceberg.
It will be commonplace to encounter virtual reality in numerous locations. Continually combining information and enjoyment has produced this outcome. This includes education, professional workplaces, and training facilities.
How to invest in virtual reality stocks?
Investing in VR stocks is purchasing the shares of a firm or companies you intend to own, and the ownership rights are what you get when you purchase stocks.
Typically, you may purchase AR stocks via the business, stockbrokers, or agents. But before you make the buy, you should examine the following factors.
These consist of:
1. The Company
You should do extensive research on the firm you want to invest in to evaluate if it is the ideal location to invest your money.
Such is, what is the company's yearly revenue? How long have you been in operation? What is the stability of its businesses?
Only invest in companies that are worth the risk.
2. Current Stock Market Trends
If the stock market is experiencing a negative trend, you should reconsider purchasing stocks at this time. If the trend is favorable, it may be the ideal moment to make the buy.
3. Stocks Yields
This is the rate of return for a certain stock. This is readily accomplished by dividing the dividend by the stock price. The yields of more expensive stocks are lower, and vice versa.
4. Price-to-book Ratio
The price-to-book ratio compares the stock price to the firm's book value. It is computed by subtracting the entire liabilities from the total assets, then dividing the result by the total number of outstanding shares.
Alphabet Inc. (NYSE: GOOGL)
Google is one of the world's leading suppliers of internet technology, including the most popular search engine. Google's virtual reality headset innovations shook the virtual reality sector to its core.
Google started manufacturing its virtual reality set technology, Google Cardboard, in 2014. Google Cardboard is an inexpensive headgear literally fashioned from cardboard.
Google created this product to stimulate interest and progress in the VR market technology. Google Daydream is a more advanced headgear that Google developed in 2016.
Similar to Google Cardboard, it enabled users to experience VR by connecting their smart mobile devices. Google has ceased selling VR headsets (due to a lack of user enthusiasm). The firm continues to enhance the augmented reality (AR) features of its mobile devices, including app use.
Google's most recent initiative in this field is WebXR, an augmented reality idea. This contains an assortment of new smartphone applications that you may use to interact with the surrounding environment.
One of the earliest applications is called Sodar, and it allows you to see a 6-foot social distance in any scenario. After a brief decline caused by Covid-19, Google's stock is doing better than ever.
Additionally, an average increase is anticipated for future performance. Headsets and associated gear have been the market's primary focus for virtual reality. Consumers continue to need user-friendly technology, and Google will certainly remain a major role in the AR and VR industries.
Nvidia Corp (NASDAQ: NVDA)
This virtual reality company offers graphics chips and central processing units under the GeForce, Quadro, Tesla, and Tegra brand names. In addition to automotive, healthcare, graphic design, special effects, artificial intelligence, cloud computing, robotics, and virtual reality, NVIDIA delivers graphics technology to a variety of industries.
In the automotive sector, for instance, NVIDIA technology is being used in the development of self-driving vehicles. NVIDIA (NASDAQ: NVDA) is a pioneer in this revolutionary new computing platform and a worldwide leader in visual computing.
NVIDIA TuringTM GPUs, drivers, and SDKs enable breakthrough virtual reality solutions for product design, gaming, and cinematic experiences, among others. Professionals, gamers, and programmers will appreciate these items.
NVIDIA has made great advances in the field of virtual reality, and this is shown by VRWorks.
VRWorksTM is a library, application programming interface (API), and engine suite that allows enterprises to construct and develop Virtual Reality headsets for extraordinary virtual reality experiences.
VRWorks delivers a new level of presence by merging hyper-realistic images, audio, and touch interactions to create virtual environments that resemble reality.
Sony (NYSE: SNE)
Sony is attempting to rectify this by altering its product sales approach. They concentrate on creating their own games rather than depending on third-party developers. In turn, this will empower them to have greater creative control over their games and produce higher-quality titles that will attract more consumers.
It will also enable them to integrate their current technologies with these games. For instance, horizon Call of the Mountain is a video game developed by Sony subsidiary gang war games. Consequently, this is one of the first games to incorporate the improved PlayStation VR2 features (PSVR2). PSVR2 will "operate only with the PS5 gaming system and follow in the footsteps of the 2016-launched initial PlayStation VR headset."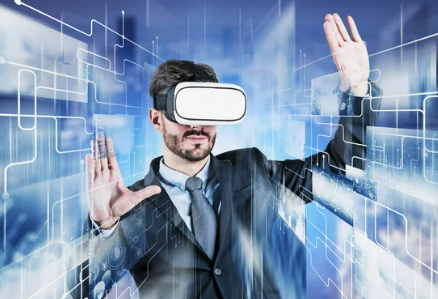 In addition, Sony said that the headgear would be released by the end of the year, but these difficulties may delay its release until 2023. Nonetheless, this may be a significant driver for SONY stock over the next year and beyond.
Meta Platforms Inc (FB)
Globally, Meta Platforms Inc. creates solutions that allow people to connect and exchange through mobile devices, personal computers, virtual reality headsets, and in-home devices.
With 2.5 billion monthly active members, the firm is the biggest social network in the world. Users interact in many ways, sending messages and sharing news stories, images, and videos.
It is most known for developing the Facebook app, but its social media ecosystem also includes Instagram (which it bought in 2012), Messenger, and WhatsApp (which it acquired in 2014). All of these applications are accessible through mobile and desktop devices.
Meta Platforms purchased Oculus, a firm that manufactures virtual reality headsets, in 2014, considering virtual and augmented reality of being the future of interaction. Meta Platforms aim to control "the future of interaction."
After the purchase of Oculus, Meta Platforms rebranded the subsidiary Facebook Reality Labs; it now focuses on "bringing the future of connectivity to virtual and augmented reality."
Today, the OculusVR headset by Meta Platforms is one of two main VR headsets on the market, the other being the Playstation VR headset by Sony.
Meta Platforms' VR business has more than doubled between 2020 and 2021, as the company's "other revenue" business sector rose 146 percent year over year, according to its first-quarter report for 2021.
In case you were wondering, Oculus dominates the Other Revenue business category of Meta Platforms. The firm already generates billions in annual sales and is close to reaching a billion in a quarter.
Impressively, the firm has maintained a gross margin of over 80 percent and a net margin of over 30 percent for over five straight years. In 2020, the firm had a net profit margin of 33.90 percent on sales of $85.97 billion.
Microsoft (MSFT)
Microsoft, a one-stop shop for consumer technology and a major rival to Sony in the video game industry, presents a convincing case for VR integration. However, the corporation has not developed any alternatives, which reportedly makes Xbox console enthusiasts anxious.
As proof, VRfocus.com said that an error message on an Xbox Series X suggested that Microsoft may soon provide VR functionality, which sparked a flurry of rumors. However, the IT giant promptly denied these reports, perhaps disappointing a large number of individuals.
However, this creates a commercial argument: if Microsoft develops it, people will come.
For the time, those seeking virtual reality stocks must rely on the company's more serious VR-based endeavors, such as Microsoft HoloLens. HoloLens is marketed as an "ergonomic, untethered, self-contained holographic device with enterprise-ready apps to boost user accuracy and output" The team developing HoloLens believes its enterprise-level customers will have less downtime and faster onboarding.
In addition, the system provides a vast array of applications, such as treatment delivery services at the point of care for the healthcare business and practical learning facilitation for academic institutions.
Epic Games
Their Unreal Engine will be the Next Big Thing in the game industry. Epic Titles features a game shop with a vast selection of third-party games as well as their own. This is just a portion of their work. Their Unreal Engine is a potent graphics engine that is the driving force behind several immersive movie CGIs. They just improved their current Unreal Tech to Unreal Engine 5, which includes numerous sophisticated capabilities, such as Meta-Human, which can imitate authentic human emotions.
It will be a terrific time to invest since they are on the verge of something significant. They have already created an immersive 3D engine that is being utilized in several blockbuster films, and they are on the cusp of Virtual Reality.
Apple (AAPL)
Apple is one of the world's most valued firms, and it has been a household brand for decades and is among the first businesses to join the metaverse. In addition, Apple creates and distributes a vast array of cutting-edge technological innovations in consumer devices, computer software, and internet services.
The corporation will have an easier time combining its goods with VR alternatives due to its vast customer base. With this in mind, the company is developing an AR or VR headgear. It had planned to unveil the model this year, but manufacturing constraints prevented it. Now, the business plans to introduce the model the following year.
Apple has been in business for decades and has constantly produced high-quality technology, which has helped to reshape the market. Therefore, it is reasonable to anticipate that the product will be successful, which will help AAPL stock.
Immersion Corporation (NASDAQ:IMMR)
Immersion is an excellent pure play for investors seeking virtual reality stocks that are only engaged in the development of VR technology. Immersion focuses on more than simply the gear and software required to deliver VR to the market.
Touch-feedback technology for devices such as touch screens is created through immersion. Immersion, a market leader with over 3,200 granted or ongoing patents, is a holder of over 3,200 issued or pending patents.
This makes them an excellent (and inexpensive) investment with a large number of proprietary assets. These components provide a personalized AR and VR experience.
Many of the other stocks highlighted in this article are more intimately tied with VR software and hardware. As AR and VR experiences continue to look for ways to make their products as realistic as possible, immersion might be a significant source of variety and development. In February 2021, amid a moment of market turbulence, Immersion stock soared.
Despite the decline in share price since then, this firm still has enormous potential. The market for touch screen devices will continue to expand, which may lead to a rise in revenue and share prices.
Unity Software (U)
Unity Software has developed a sophisticated framework for the creation of interactive, immersive, and real-time 3D content. The company's principal software product is one of the most popular platforms for creating 3D video games. However, the program is also applicable to the architectural and construction, animation, and design industries.
The company's products have enabled game developers to build breathtaking VR images and a realistic digital universe filled with interacting objects of varying sizes, shapes, and textures.
Investors in U stock possess a share in a corporation that assists individuals and companies in developing distinctive VR presences in the metaverse. As Web 3.0 use cases become commonplace and millions of people navigate the metaverse, the company's growth might be exponential.
Analysts anticipate a 33 percent gain in sales for Unity Software in 2022 and a 28 percent increase in yearly sales in 2023, after a 43.8 percent increase in revenue last year. A five-year profits growth forecast of 69.4 percent for U.S. stocks is highly positive. Its future value and average analyst price objective of $161 suggest a potential upside of 66 percent over the next twelve months.
Conclusion
The new era of virtual reality is on the verge of achieving greatness. There are several methods to invest in virtual reality's future. This rapidly expanding sector offers several investment prospects, from consumer electronics to commercial computers, software firms to chipmakers. Companies of various sizes, including Facebook and Sony, understand this.
As more is learned about customers who use VR goods, market data-driven systems will continue to evolve to provide more realistic experiences.